This post may contain affiliate links! If you click on a link in this post, it may be commissionable, and I may earn a small amount when you purchase off of that link. Thank you for understanding!
Have you ever stumbled upon a brand that you just absolutely fell in love with? I have! It was with The Daily Grace Co! One of my friends suggested their bible highlighters to me a few weeks ago and I just had a feeling that I needed to check them out. 
The first thing that drew me in was their Statement of Faith. I fell in love with it and felt like God had called me to this company. It was one of those tear-jerker moments where I knew I needed to support this company and share their products. I'm so glad that I made a purchase!
When I went to their site, I saw a $5 sale. The frugal part of me leaped and I instantly knew I was bound to make a purchase!
Two hours and over $100 later, I had just made one of the best purchases ever. I even sent a few goodies to one of my best friends! Here's what I sent her:

~ Hymns For A Mother's Heart!
~Gospel Hope In Pregnancy & Infant Loss! 
We are both pregnant with due dates around the same time so I knew I had to get some of those as well!
This is what she had to say about Hymns For a Mother's Heart!
"For me, Hymns For a Mother's Heart has become a motherhood essential. I've incorporated it into my evening Bible time, and it's become something of a sanity point, and something I really look forward to at the end of each day. Each devotional is well written, and deeply encouraging to me as a mother striving to grow in grace and godliness. I've enjoyed the aspect of meditating on a hymn at the beginning of each and ending with the guided prayer for myself and for my children at the end. In all the chaos, it has helped me to pause and reset my focus heavenward, giving me a renewed sense of peace and joy in the One who is leading me through this crazy life. I'm so grateful to have the privilege of this resource, which God has used as a great spiritual encouragement to me."
Of course, I had to splurge and get some of the cutest Bible Tabs ever!! I got these Mint Floral Bible Tabs and the gold accents go so well with my bible!!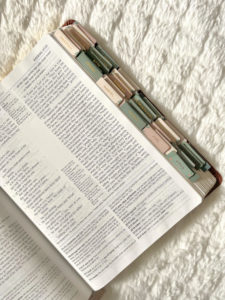 A few items that I can't wait to indulge in are these kids' board books that I got for Ezekiel! I plan on giving them to him on Easter and I can't wait to include them in our story time. They were all on sale for only $5!!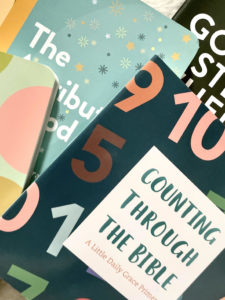 ~Sweeter Than The Sweetest Honey! 
~Coutning Through The Bible! (Great for preschool.) 
One item that I got for myself included the Pastel Bible Highlighters! They don't even bleed through your bible pages and the colors are so beautiful!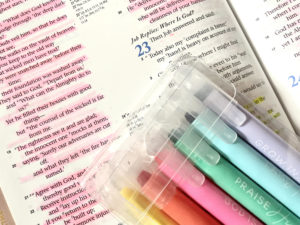 Something that I knew that I had to get was the Thirty Truths for Common Lies for Women! This book, along with Hymn's For A Mother's Heart, makes great Mother's Day gifts! 
I wanted to grab something for my husband as well so I picked up the Prayers for Your Day – Men's Book! I love the encouraging messages it has for men of all ages, including those who are single and married.
More Products!
Did you know that The Daily Grace Co. also has a magazine? For only $9, you can get exclusive content sent straight to your mailbox! Grab your magazine here. 
Not looking to spend money right now but are still interested in The Daily Grace Co. products? Check out their Free Resources here! 
If you are wanting to place an order, be sure to sign up for their rewards program! You can earn DG points on every product that you buy. It's also a great way to get free products and earn coupons! 
Overall:
All in all, I hope everyone checks out this wonderful company. All of their products are Christ-centered with an amazing foundation behind their words. Let me know your thoughts on The Daily Grace Co. in the comments below! I can't wait to hear from you!
Check out my latest post, Here's How To Get Stanley Tumbler's CHEAP + RESTOCK ALERTS!