This post may contain affiliate links! If you click on a link in this post, it may be commissionable, and I may earn a small amount when you purchase off of that link. Thank you for understanding!
Something that always brings me joy is finding brands that support moms and that are built for moms. That's why I was so overjoyed when I discovered Momanda!
Momanda is a brand built to promote body positivity during your pregnancy and breastfeeding journey. Their products are for moms of every mind, breastfeeding or not! They strive to have comfortable yet stylish clothing for moms all over the world.
"Born out of a desire for something chic and elevated, we created MOMANDA to fill a void in the maternity clothing market. Our products are designed to make each moment – pregnant or not – enjoyable, rich, fun and beautiful. We're obsessed about individuality. We're obsessed about quality. Simply put, we make the perfect combination of fancy and practical."
Momanda was so kind as to send me three of some of their best-selling items! (They're going quick, too!) 
One of the best things about this bralette is that it was designed to flex upwards in both band and cup size to accommodate your growing body during pregnancy and breastfeeding.
This bralette also features a wire-free design for utmost comfort! It also features wider cups and wings for the best coverage when wearing. This way, you don't have to worry about anything hanging out or not being supported! 
I was so surprised at how soft and weightless this bra is! The band itself is very soft and lightweight. I definitely have a new favorite!
The Dream Lace Nursing Bralette comes in four different colors with a variety of sizes to choose from. Grab yours here!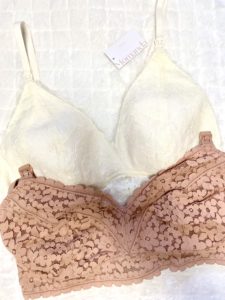 Every momma knows how hard it can be to pump, especially when your bra is in the way! That's why Momanda has created a beautiful Lace Hands Free Pumping Bra. Not only is it super convenient for pumping, but it is also stylish and affordable!
This bra is often referred to as the "Do Anything Bra" because you can literally do anything while pumping in this bra! Not only is it great for pumping but it is also great for breastfeeding in general. 
This pumping bra looks and feels similar to a normal bra, but it's stylish and feminine! The Lace Hands Free Pumping Bra is great for working moms as you can use it hands free and without hassle. 
The Lace Hands Free Pumping Bra comes in eight different colors and my favorite is by far the color "Cream Coffee."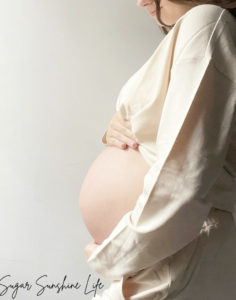 The product I was most excited about had to be the Cozy Soft Touch Lounge Set! It is sleek and cozy, long-sleeved, with skin-friendly perfection.
This lounge set is not only perfect for pregnancy, but for any stage that you might be in as a mom. Whether you are breastfeeding, pregnant, or simply being a mom, you can enjoy life in this super comfy wardrobe addition! 
Something I just love about this set is that it is the perfect piece to wear when you come home from the hospital. It's stylish so you can wear it out and about or simply wear it around the house! 
The Cozy Soft Lounge Set is made of mostly cotton so it is breathable and perfect for those early postpartum days. This set comes in six different colors, with Swan White being my personal favorite.
One of the best features of Momanda's Nursing Bra's is that no one has to know what it is! Their bras are so concealable for nursing that it looks similar to your regular bralette. This way, you can be stylish while also keeping your intimates practical. 
Have you tried Momanda? Let me know in the comments! I would love to hear about your experience!