This post may contain affiliate links! Thank you for understanding!
Recently I had an amazing opportunity to partner with Poet Dresses! If you know me, then you know I am very passionate about sharing modest clothing.
It's difficult in these modern times to find modest clothing that is also stylish. I feel like so many Christian women struggle with this. I know I do!
I mean, you want to be modest without being covered to your neck and wrists right? You want to find dresses that are elegant yet have just the right amount of coverage! That's why I am so excited to share Poet with you.
But, before we dive into their careful selection of dresses, let me tell you about their company.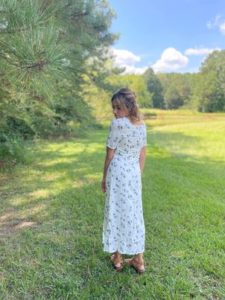 Poet, a Brand Meant To Inspire!
Poet was founded by husband and wife team, Kat and Ryan. Kat has always wanted to express herself through fashion but always found a hard time finding clothing with just the right amount of coverage.
To overcome these challenges, she and her husband founded Poet Dresses. Here's what she had to say!
"Just like every girl, I am on that age-old journey to self-love, and one way I like to express myself is through fashion!


However, I prefer higher coverage in my clothing, which has made it difficult to truly build the unique and stylish wardrobe I've been imagining.

There isn't a lot of variety in "modest" fashion and I find that most designs with higher coverage don't have the charm that I'm looking for.

I wanted higher coverage clothing that fit my personality, that was modern and trendy, and that didn't cover way more than necessary (if ya know what I mean).

That's where my genius of a husband comes in. Ryan told me that if we couldn't find what we were looking for, we would just make it ourselves. And voila! Poet was born: a stylish, spunky brand of women's clothing with just enough coverage.

In our research for Poet, we've learned that I'm not alone in this journey. So many women and girls are looking for the exact same thing.

We are excited to be working together with you to create a community where women who have been largely ignored in the fashion industry can come and feel not only welcome but celebrated.

Meet cute, trending styles with the comfortable coverage you've been looking for. Meet Poet."
What an amazing story behind their brand! As a girl whose clothing standards don't meet most, I was so excited to find Poet.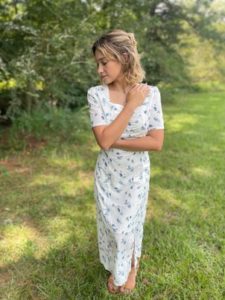 Details Details Details!
The first dress from Poet that really caught my eye was The Sestina Dress. Instantly upon seeing the pattern, I fell in love! 
Along with a beautiful neckline, this dress features a pattern that is classy, and the colors are light and airy! It's my dream dress. It's romantic, it's modest, it's trendy. It's everything you could ask for in a dress!
Some great features of this dress is the custom design by Poet, zipper in the back, midi-length skirt with knee-high slit (length will vary by height), and the square front & back neckline!
This dress has a calf-length skirt and features a subtle knee-high slit for just a little bit of leg and a stunning square neckline with bust ruching.  Definitely an "everyday princess" kind of look that emphasizes your curves in all the right ways. 
If it isn't obvious enough, The Sestina Dress makes me want to go pick a bouquet of flowers and frolic in a meadow with green grass. It makes me feel that beautiful!
Don't be worried about the fabric being see-through! Poet knows that it is essential to have lining under our dresses. Besides, no one wants to see our undergarments!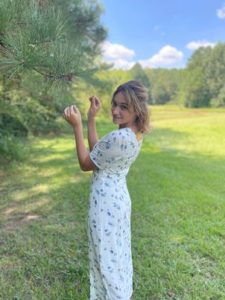 Even the rich Polyester fabric gives off classic Linen vibes. This fabric is soft, but not silky. It is not stretchy, so if you are between sizes, Poet recommends sizing up!
Think you're interested in grabbing this dress? Click here to see the full dress on their website! And, if you end up buying it, please feel free to comment with a picture of you in a dress from Poet! I would be overjoyed to see my readers in Poet Dresses!
Interested in their sizing? Here is the Poet Size Guide to help you better choose the right fit for your next dress: Poet Size Guide!
Something that is really fun and unique about Poet is that ALL Poet dresses come with a poem delivered in a wax-sealed envelope! It's a keepsake like no other.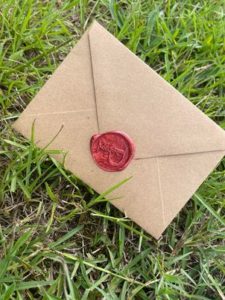 Looking for some gift ideas for your mother? Be sure to read my latest post, Gift Ideas For Mothers!
Impact-Site-Verification: 1958216099