This post may contain affiliate links! If you click on a link in this post, it may be commissionable, and I may earn a small amount when you purchase off of that link. Thank you for understanding!
I have wanted to start the tradition of posting Holiday Gift Guides for my readers every November. I am so proud that I finally got around to it and could post this blog for all of you sweet readers.
Holiday shopping can be a hassle when you don't know what to buy or when to buy it. The items I have carefully picked out are affordable and will definitely be loved by that special person in your life. It will also be a huge stress reliever for you to know that your holiday shopping is almost done!
Our holiday season is getting busier, so I used inspiration from trends and recent gift purchases to curate these gift guides. I hope you find them helpful in purchasing gifts for the upcoming holidays!
Gift Guide For Her
This is the gift guide that I love doing the most! It helps me figure out what to buy for the women in my life and also pick up on the latest trends. If you were to ask me what my favorite item from this list would be, hands down it would be the UGG Slippers. Every woman likes something cozy so that's why I included some top items along with fashion and beauty trends.
Gift Guide For Him
Oftentimes, I struggle with buying for men around the holidays. Over the years, I think I have gotten better at it, but I still struggle. This gift guide not only helps my readers but also helps me! These items are definitely hubby approved! Especially these Galaxy Earbuds.
Gift Guide For Baby
Shopping for the little ones can either be a task or easy peasy. For me, it was easy since my little guy likes certain kinds of toys and books. Every parent wants to spoil their little one with as many gifts as they can muster. It takes a lot of self-restraint to be able to resist the urge to buy more! Want to know my favorite on this list? The Noah's Ark from Pottery Barn!
Christmas Blessings Giveaway!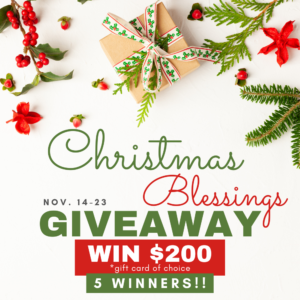 Another year, another beautiful Christmas! The most wonderful time of the year is upon us and some of the best things about this time of year is that it's a time of gratitude, togetherness, and celebration. I'm so excited!
I have teamed up with a group of bloggers for the 9th annual Christmas Blessings Giveaway to bless FIVE families this year. In the past, we have had two winners for this giveaway, but this year we wanted to give to even more families – we are giving away $200 gift cards to 5 families! Each winner will get a $200 gift card to wherever they choose – a restaurant, clothing store, grocery store, online retailer – any place that offers gift cards!
There are lots of entry options in the Rafflecopter form below – the more you enter, the better your chance of winning!  I know it can seem tedious and time-consuming to go through all the entries, but isn't a chance at $200 worth it? I think it is!  Plus, all of these amazing bloggers donated their own money towards the prizes so this giveaway wouldn't be possible without them.  I hope you'll take the time to check out each one. Who knows, maybe you will find some new blogs to follow.
The giveaway will run from Monday, November 14th through Wednesday, November 23rd (ends at 11:59 pm EST). The winner will be notified by email shortly after the giveaway ends and will have 48 hours to respond to claim the prize or another winner will be drawn. By entering this giveaway, you agree to be added to the email lists of the participating bloggers.  Please be sure to read the Rafflecopter terms and conditions upon entering. Happy entering! 
Thank you so much for stopping by, I appreciate every single reader! Holiday shopping can be stressful so I hope these Gift Guides helped ease your holiday shopping experience. While Christmas is only a few weeks away, I hope some of you are able to grab these as they go on sale. (Some of these items are discounted majorly!)
I hope each of you joins in on this amazing giveaway – We are so blessed to be able to share this with all of you!
See something you like? Let me know in the comments! Be sure to check out my latest post, How I'm Getting Ready For The Cold & Flu Season!