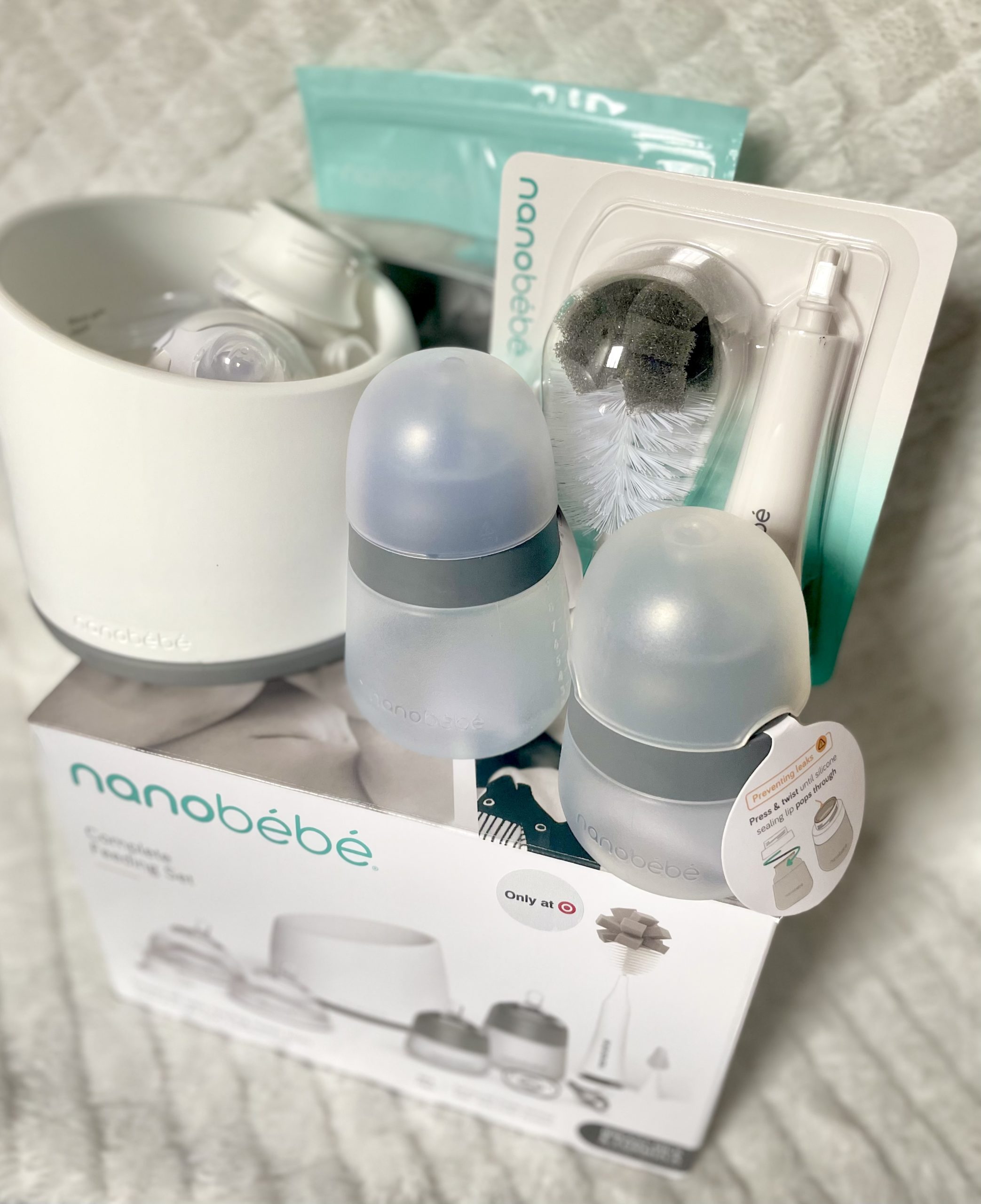 This post may contain affiliate links! If you click on a link in this post, it may be commissionable, and I may earn a small amount when you purchase off of that link. Thank you for understanding!
Getting Ready:

It's that time again ~ Time to pack for another hospital trip for another baby! I am so excited yet terrified at the same time. Even though I have all of the emotions about giving birth racing through my head, I am comforted knowing that I have my essentials packed and ready for the day baby #2 makes his arrival.
I have once again decided to go un-medicated for this birth. With my first, I also had an un-medicated birth and it was truly magical! You can read all about my experience here. If you would like to hear about my birth story for baby #2, please let me know in the comment section below!
When I was pregnant with my first, I wrote another post on What's In My Hospital Bag. See that post for some great tips and a quick checklist!
Must-Haves:
One of the first things I immediately stashed into my bag was the MotherLove Nipple Balm. Y'all this saved my life last time I breastfed! I started using it in the hospital and it offered so much comfort. It helped with the soreness and cracked nipples. Truly a must-have!
I made sure to pack some lip balm, extra pads, a long phone charger, and non-slip socks! These are definitely going into my toiletry bag. I also packed some travel shampoo and conditioner for my hubby while we are staying in the hospital.
Some of My Favorites:
I found the cutest Kindred Braverly socks and they have the cutest saying, "Baby you're worth it." on the bottom. This pair comes in four different colors. I'm so excited to wear them during our hospital stay! You can use code Madison15 for a discount at checkout!
Another Kindred Braverly item that is in my bag is the Sublime Adjustable Crossover Nursing & Lounge Bra. I have already started wearing it because it is just so comfortable! It's great for lounging in and definitely a must-have!
Due to wanting an unmedicated birth, I knew I wanted to pack a diffuser along with some of my favorite Essential Oils. I grabbed this diffuser for under $15 a few weeks ago and have used it every day since! An Essential Oil that I plan on diffusing during our hospital stay is Young Living's Lavender oil. This oil is so effective in my everyday life and I hope it can help me during labor!
Ready for if he needs it is a pack of my favorite brand of pacifiers (I love this color)!
Waiting at Home:

While there will be another sweet boy waiting at home for us, there is something else that I want to mention that isn't going into my hospital bag, but is ready for when we get home. It's the Nanobébé Complete Feeding System! They were so kind to send me a sample to try for our newest addition! We have only ever used Nanobébé brand for pacifiers, bottles, etc. I was overjoyed to collaborate with their brand!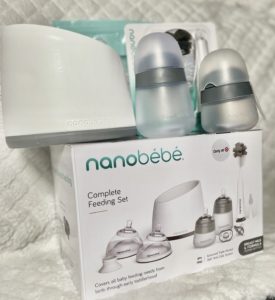 The Nanobébé Complete Feeding System includes two Flexy silicone pacifiers, convenient breast pump adapters, a baby bottle warmer, 4 slow flow nipples, and a bottle brush for easy cleaning! It's perfect for any new parent. I can't wait to put this feeding system to good use!
I made sure to pack some disposable nursing pads to help during those early days of breastfeeding. My favorite are the Nanobébé Disposable Nursing Pads! I tried many brands when I breastfed my oldest and these are the only ones that would completely catch milk and not leave me wet. I could wear any bra I wanted as long as I had these on! They are so unbelievably helpful!
Having an easy and accessible way to everything postpartum is so helpful! I made sure to have my disposable nursing pads within reach and organized. I stored them in this cute basket that I got from the Dollar Tree! Here are some that are similar to the ones I bought.
One of the best welcome kits that I have gotten is from Nanobébé! It is completely free and has everything you need to sample including nursing pads, breastmilk storage bags, and a 0-3 month Flexy Pacifier! I think this welcome kit is what hooked me on Nanobébé with my oldest. That and the fact that Nanobébé pacifiers were the only ones he would take… ha!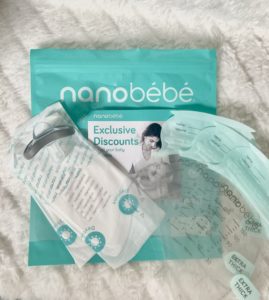 Did you know that you can also donate a bottle or pacifier to a family in need? Here's how Nanobébé offers an amazing way to give to others at hardly any cost! Donate now!
I love hearing from others! If you can think of anything that I'm missing or something you would add (or have added to your bag), please leave a comment below. Have a blessed day!
Love my content? See my latest post, Momanda, Built For Moms!